Eval&Go, specialist in customer feedback
Founded in 2010, Eval&Go is a French company that specialises in customer feedback. Since 2012, it has offered an online satisfaction survey and questionnaire program. Today, this tool has more than 65,000 users and was voted the best online questionnaire solution by Marketing Magazine.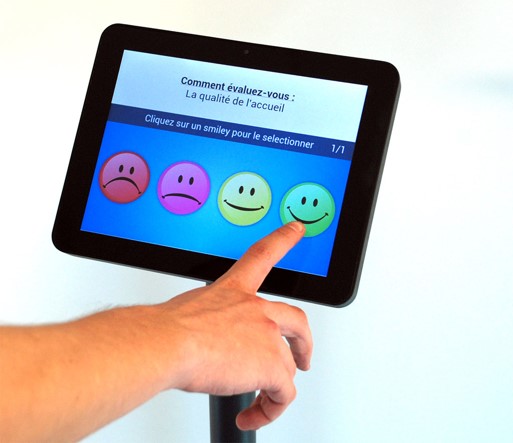 Company information
In 2013, the company started to think about a solution for collecting customer feedback on points of sale. It is in fact rare for customers to give their opinion when they shop in a store and the existing solutions, often costly, such as mystery shoppers or questionnaires at the exits of the stores, did not allow for obtaining quality data. So Eval&Go decided to launch the first touch screen terminal for point of sale information collection: Qwesteo.
The Qwesteo solution
The Qwesteo terminal project started from the following thought: how can you collect customer opinions in a fun way? "There is something paradoxical about all of us", explains Sébastien Lerouge, President of Eval&Go, "we love to give our opinion, but we don't like being bothered. We developed our Qwesteo terminals from this paradox".

Connected by SIM card, the terminals allow for measuring customer satisfaction in an extremely fun and simple way, and in real time. Thanks to the GSM network, it is possible to remotely integrate questions with the terminal and to gather all of the responses at the end of the day, the end of the week, or the end of the month.
Plus, "choosing to connect the terminals with SIM cards is more secure for points of sale", explains Sébastien Lerouge. "It allows for segmenting the data flows and facilitating rollout. Thanks to these SIM cards, our terminals are plug-and-play and ready to work as soon as they are received by the point of sale".

The terminals may be installed anywhere in the store: near the checkout area to give customers something to do while waiting in line, or in a particular department or space. "It is possible to put several terminals in the store and to integrate questions that are the same or specific to the department they are in". The company records 3,000 to 10,000 responses per month per terminal at a point of sale. This is a considerable number that allows companies to continuously measure their customers' level of satisfaction and to improve customer relations.

Eval&Go collaborates with Matooma and has installed its terminals both in France and abroad, in specialised stores (Castorama, Les Galeries Lafayette, IKEA, etc.), in mass retail stores (Carrefour, Simply Market, Leader Price, etc.), and also in airports and public spaces such as on public transportation.