M2M SIM card features
Similarly to regular SIM cards (a cousin of the M2M used by the general public), M2M SIM cards are chips containing a microcontroller memory. This microcontroller can be used to store data and apps, and transmit information in real time across a specific network, regardless of the distance between the device emitting it and the one receiving.
However, whereas SIM cards for public use are designed for day-to-day devices like smartphones, tablets and watches, M2M SIM cards are specifically designed for professional-use smart objects and industrial projects.
Technology-wise, M2M SIM cards are multi-channel (data, voice, SMS) and can operate on various GSM networks (2G/3G/4G). They are directly deployable internationally – and worldwide at that. A big plus point compared to regular SIM cards is that these have unlimited (permanent) roaming capabilities, meaning they can remain in industrial kit for years on end without needing to be relocated.
These cards can be activated, configured and terminated remotely, meaning that data transfers can be adapted to individual requirements and projects no matter where objects are located.
It's worth adding that using an M2M SIM card for your industrial project does require specific installation and configuration. However, this does result in an improved quality of SLA service, and in doing so M2M SIM card providers can offer customer service which helps integrators, manufacturers, installers and industry operators to really make the most of their M2M technology.
How do they work?
There are currently two different types of M2M SIM card on offer. First, there are single-operator cards, which only connect to one operator which is specified when the card is configured. This means that once the card is activated it is only able to connect to that operator, as is usually the case with mobile phone SIM cards.
Second, some "multi-operator" SIM cards are able to connect to various local networks in different countries (e.g. French networks Orange, Bouygues Telecom, SFR and Free). This means that the smart object will connect to the best network available based on two criteria: the quality of the signal, and the strength of the network at any given point in time. In the event of a network failure, the object can rescan for available networks and the SIM card can connect to a new one. This system therefore helps to improve service continuity, limit the need for intervention by technical experts and in doing so reduce call-out costs, all while optimising productivity.
Multi-operator box / sim card behavior
Step 1

The device initiates the connection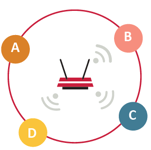 The device initiates the connection. The SIM card scans all available networks and sends the result to the device. The SIM card is controlled by the device
Step 2

The device determine the best network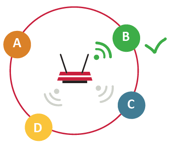 The device determines the best network according to its own criteria: often the signal quality and radio strength.
The device remains connected for as long as the SIM card does not report a lost connection.
Step 3

Lost connection ? It initiates a new connection sequence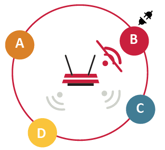 When a lost connection is detected, the device initiates a new connection sequence (Back to step 1).
Note : To optimise connection times, the device generally uses the last connection established by the SIM card. Caution: for a mobile device, it is best not to use this option in order to guarantee a permanent connection.

It's worth adding that, as with classic SIM cards, their M2M counterparts are available in all size formats: standard (2FF), micro (3FF) and nano (4FF). If they are intended for use in extreme conditions (vibration, temperature, etc.), then depending on the activity it's also possible to get SIM cards that have been toughened or welded.Suitable SIM cards for every occasion
Industrial
Standard 2FF

Micro SIM 3FF

Nano SIM 4FF
Embedded SIM MFF2
Last but not least, they are highly suited to industrial projects as they can access various IP solutions (static private IP address, public IP, etc.) which aren't available to the general public and can, for example, improve and streamline remote maintenance operations.
Find out more about how our solutions have been used in a range of industrial projects by taking a look at our case studies, available here.