What LTE-M technology is available for smart objects? A closer look at LPWAN
The end is nigh for 2G – in fact, it has already been announced as 2020 in several countries, such as Switzerland.
This means we need to find a sustainable alternative for connecting smart objects, and for the IoT in general – and that's where LTE-M comes in.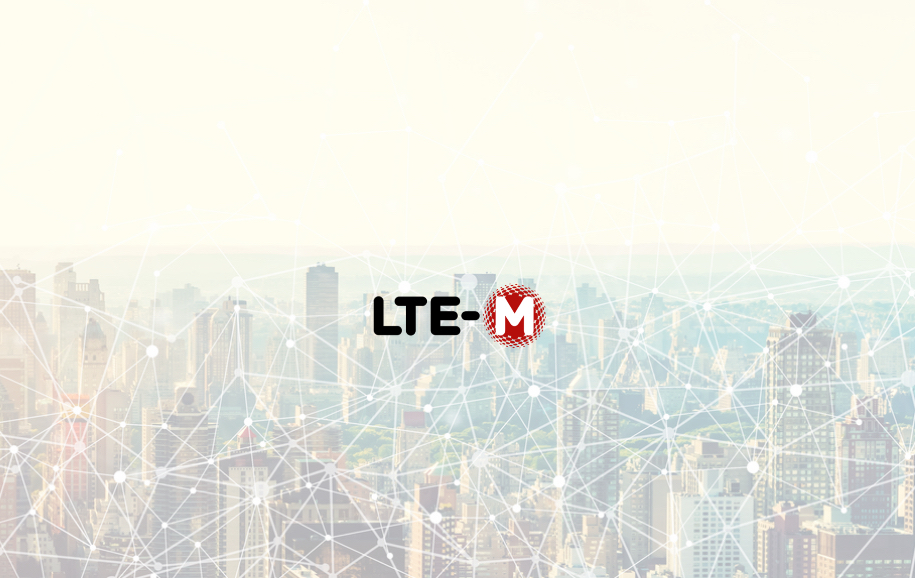 In this article, we'll be looking at what LTE-M actually is, where it fits in with regard to M2M connectivity, and how to access it.
What is LTE-M for smart objects?
LTE-M is an extension of the 4G/LTE network and is a type of Low-Power Wide-Area (LPWA) technology. It uses the mobile network to operate and looks to remain reliable and robust for many years to come, as it will eventually be incorporated directly into 5G.

Unlike other LPWA connectivity solutions, LTE-M does not require new antennae to be deployed: an antennae software update is all it takes for objects to be able to access the LTE-M network.
How does LTE-M compare to other M2M connectivity solutions?
There are various ways of connecting smart objects. Two key factors are reach and speed.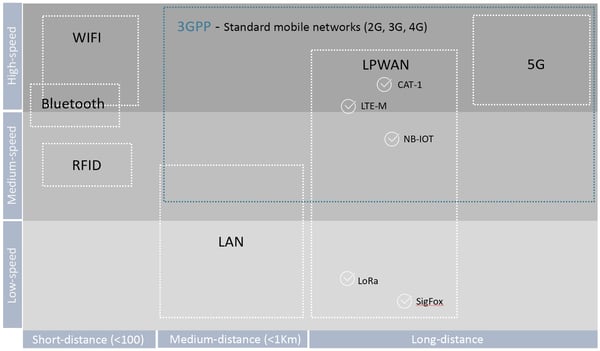 However, contrary to what you might think, not all smart objects can have – or necessarily need – access to a high-speed network.

Certain business applications don't actually require large quantities of data to be constantly relayed, and/or do not have access to a power supply. They will, however, need a long battery life (> 5 years) to limit charging time and remote maintenance.
When can LTE-M be used?
LTE-M is a very attractive option for IoT solutions with limited requirements. As with other Low-Power Wide-Area Network (LPWAN) technology, the LTE-M network offers low-power connectivity whilst ensuring wide-area coverage. It also improves coverage:
- indoors
- in underground and semi-underground locations.

It offers excellent building penetration, and provides a connection in locations that are difficult to access, such as car parks and lifts.

This technology also means that smart objects are able to operate independently for longer, increasing standalone power by anything between 5 and 10 years and in doing so reducing the need for technician call-outs to replace components or carry out maintenance. This makes it a highly appealing option for business applications where high call-out costs apply.

Last but not least, unlike core LPWAN technologies, LTE-M allows devices to access the voice network in addition to offering data and SMS exchanges, which can be useful for emergency equipment applications – in lifts, for example.
Why choose LTE-M technology like a LPWAN?

LTE-M technology means businesses can adapt the mobile network to suit their needs: thanks to LTE-M, it is now possible to combine low power usage, wide area coverage, and reduced costs.

You'll be able to read about all the advantages of LTE-M in one of our blog articles soon, or sign up to our newsletter.
How can I access LTE-M?

Given the many advantages for businesses of using LTE-M technology, and as another step forward in rolling out the Internet of Things, some providers – like Matooma – are making the technology available via M2M SIM cards.

-> Check out Matooma's LTE-M range

To access the LTE-M network, all you need is an M2M SIM card with an M2M contract which is connected to the 4G network. This applies both in France and internationally.

Do you have any questions about LTE-M? Contact us.